Polka Parr T
---
I got this horse because I had a screaming idea for something a little different.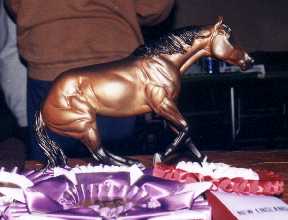 I was trying to get excited about a customized western performance horse, and failing miserably. I really didn't want a Western Pleasure clone, and I wasn't really up for a major customizing project since there wasn't a really versatile resin or OF body available.
And then I went to a concert, and drank waaaaay to much coffee and stayed up waaay too late, and like a bolt from the blue, I suddenly realized the world was ready for a mildly twisted Freestyle Reining horse. After all, the hobby had survived Beowulf. A more detailed version of the story is here.
Originally set to debut on an October 23rd show, Polka's entry was delayed until January 2000. Where he established himself by winning the Other Western Performance class with a reining setup. The costume is in the works for his Freestyle entry...watch for him at NESE!
Career Highlights
2000-New England Spring Expo-CM Driving Champion, CM Western Performance Reserve Champion, CM Versatility Champion, CM Overall Performance Champion, AO Breed Champion, AO Workmanship Champion, Open CM Breed Top Ten, Open CM Breed Reserve Grand Champion.