THE MIGHTY BEOWULF
---
Meet Beowulf
This is Beowulf prior to his, uh, accident. At the time of this photo, he belonged to Pauline.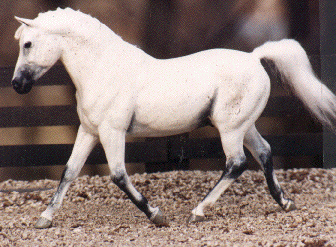 Beowulf was a customized Breyer Morgenglanz, who was no doubt state of the art when he was first created. Alas, time was not kind to Beowulf, and he aged badly. Pauline showed him a few times and moved on to another horse or 12. Pauline is an outrageous horse trader, and she decided to part company with Beowulf. So, Leslie ended up with him. Leslie also ended up with a head from a Bouras Arab in the deal. Don't ask.
Leslie decided that the Arab head would look great on the trotting Morgenglanz body, and heck, who had a customized trotting Arab? So, Beowulf got decapitated. Poor Beowulf!
Beowulf's head rattled around Leslie's apartment for a year or so, and then one day, Steph and Leslie started playing with the plastic horse head. They got Ideas for him, and entered him at New England Spring Expo in April 1999.
So, on show day, Beowulf dutifully took on his allotted 5 performance classes. He proved himself quite versatile, able to switch from roping to open show jumping with ease. He attracted crowds. He scared people. And he qualified for NAN 1999 in showmanship!
Here's Beowulf showing his talents in Open Range Roping. Missing your catch while in quicksand can truly be a bummer, eh?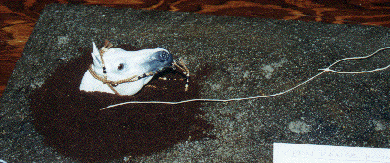 Beowulf demonstrating his cool in Western trail while being eaten by a dragon. The actual caption read "Rider stands quietly while horse is devoured by mythological reptile."
Not even Arthur Fonzarelli was this cool folks!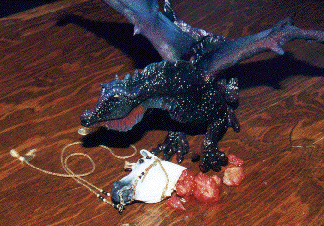 Incurring minor faults at the liverpool. At least he won't get flies in his ears.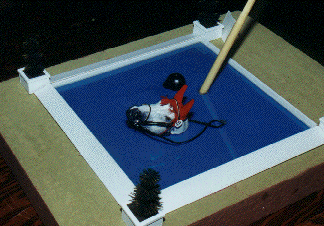 Scoring a goal in Water Polo! Go Big Red!!
Here, Beowulf plays a small but pivotal role in an Off-Off Broadway production of "The Godfather." Despite the somewhat controversial nightcap, this little scene won the Creative Showmanship class at NESE, earning Beowulf not only a blue ribbon, but an-oh-so-coveted ticket to the 1999 North American Nationals (NAN)!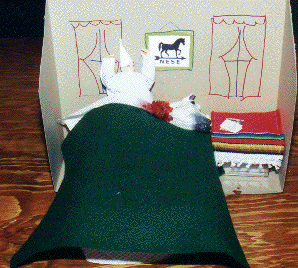 And we were so thrilled, we turned him into a fashion accessory and took him to the post show dinner. Here, Steph models Beo-wear.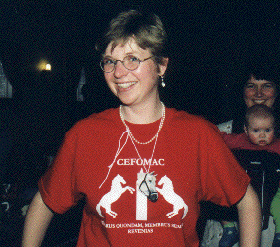 OK, so we weren't brave enough to show him in halter. Beowulf got to spend the day snuggling with "Goldie" a "decorator" Breyer CAM who also had the misfortune to end up decapitated. Goldie belongs to Jen and Nancy Timm...perhaps a decapitated stork will be paying their home a visit in March of 2000...? You never know.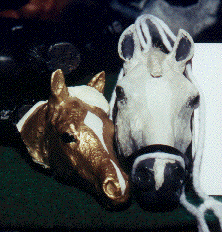 Beowulf at NAN 1999.
Well, he'd earned the right to be there.
Sadly, the trip to Lexington proved to be a bit much for Beowulf and he wound up colicky. Since he is such a valuable piece, CEFOMAC elected to take him to surgery. This set up got everyone still standing at the end of the NAN performance day to stop what they were doing and scream. Medical people found it fascinating. Non-medical people found the out-of-context pasta more than they could deal with. I'm not sure the judges knew how to handle the entry.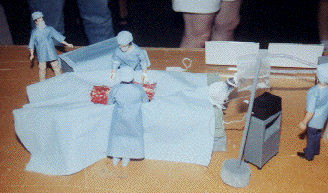 A quick overview of the questions asked surgery-table side...horses do not close their eyes under anesthesia. You can't see his legs because they are folded and tied under all the drapes. The guts smell that way because they came off a salad bar and are covered with some kind of garlic dressing. Trust me, the real thing has the potential to smell much worse. The black thing is a spleen, and yes, a stressed out spleen really does look like that. This particular spleen actually happens to be made from blackberry jam.
Email Beowulf!
Beowulf Home