New London, CT The Garde Performing Arts Center
---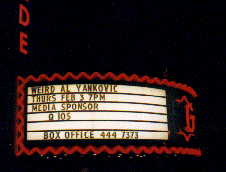 So at long last, Al and the band came to CT for a show! I have no clue why someone thought that traveling New England during February might be a good idea, but they were coming! Plus there were a few more shows within what I consider reasonable driving distance over the weekend, so I plotted out my own little Weird Al Marathon, hereafter referred to as an Al-a-thon.
And in case you're feeling a little weirded out by all this, I've found that in practice, going to Al concerts isn't really all that different from being on the model horse live show circuit. The best part is the socializing with fellow addicts. They know what you're talking about. The big difference is model horse shows are about every 2-3 weeks. With Al concerts, you gotta cram a bunch into a few days before he leaves the area.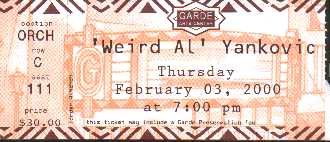 Anyway. That's probably not why you're here. I had seats in the 8th row (I know the ticket says Row C, but the first several rows had double letters) and I managed to talk my friend and co-worker Dana into coming. Hey, she's seen 98 Degrees. Not that she really wanted too though... I also decided that this would be the concert where I finally snuck my camera in, so I found myself an oversized purse that would fit the bloody thing, and I located a good supply of 1600 speed film. I had used that speed before taking indoor horse show pictures of jumpers with a big zoom lens, and those had come out very well.
Prior to the show, I set up dinner at a New London restaurant to meet a few other Al fans, which was a lot of fun. The weather reports for that day kept saying flurries with no accumulation, but it was snowing pretty seriously when I left Southbury...Fortunately, Laurie Seubert and her family as well as Nan McCarthy, her friend Connie and her brother made it. We were also expecting Dave "Elvis" Rossi, but, well, the snow...
The show was excellent (as usual) and I even caught Dana singing along and punching to "Rocky Road." Al came off the stage during "Germs" but I'm not sure if he meant to or not. He also forgot a line during "Saga" but the audience helped him out with it. Afterwards, we waited a little while, but it was snowing pretty hard in New London, so Dana and I just hit the road. The drive home was terrible, but we made it in one piece.
Friday morning I took my 2 rolls of film that I had shot to Ritz Camera for 1 hour developing. The guy who took the film in took one look at the speed and said "Jeez, what where you shooting?"
"A concert."
"Oh yeah? Who?"
I told him. He was impressed.
When I went back to pick the pictures up, the guys working there were very excited "What kind of camera do you have? You got some great shots!" I suspect they made a couple copies for themselves too, since my prints were out of order when I got them back. But anyway...here they are...
Gump
Polka Power
Dare to be Stupid
Pentiums
Germs/One More Minute
Like A Surgeon
Medley
Nirvana
Bedrock Anthem
Amish/Saga/Yoda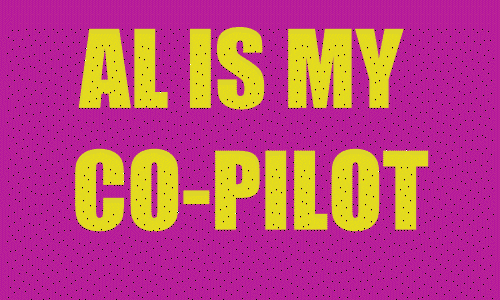 AL HOME
Continue to ALBANY