Albany, NY Palace Theater
---
Woo hoo, show 2! I have some conncetions in Albany, so I managed to snag a spot to crash for free, plus I got to visit with a classmate and share job woes.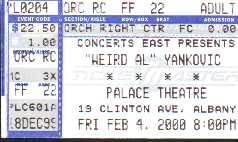 I had no idea where my seat might be until I actually picked the ticket up. The seat turned out to be not so bad. Unfortunately, I did get busted for the camera during "Like A Surgeon" and the rest of my pictures didn't turn out as well as I had hoped, so there aren't many of them from Albany. Al's voice had gotten strained badly the night before, so this time "Rabbi" was dropped from the Medley and "Nirvana" also got dropped.
Al also had to get going right after the show, but since there were only about 30 of us hanging around, he did come out to shake hands quick...and I managed to pass him the copies of the pictures I had taken the night before. He looked surprised and gave me a quizzical look (he wasn't alowed to talk!) and tried opening up the box of photos right there, but he had to move down the line. I'm glad I got to hand the pictures off, cause I think Al may have remembered me and recognized me at the second Easton show...
AL HOME
Journey to EASTON PA