Allentown Fairgrounds--Allentown, PA
7/12/03
---
I got up early enough to get my photos from Poughkeepsie developed before heading down to NJ to catch a ride to Allentown with Dave, Brittany and Allie. Dave invited everyone from the night before down for a swim before the show, so I took advantage of that. It was tough leaving the hot tub in order to make the show on time.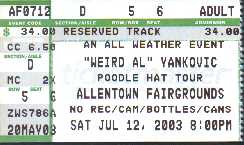 Security did a very perfunctory search of my camera bag this time and said nothing (though the big lens was hiding under a box of photos I was hoping to give to Jon later that evening) We met up with Adrian and Ann inside and went to track down our seats. The stage was set up on the infield of a race track, and our seats were confusing to find, but we did find them eventually. They were smidge further back then the night before, and we had to wait until it got dark before the show began--but it was pretty neat watch a show under the stars.
Allie had trouble with the merchandise booth before the show, so happily she missed the very lame opening act. The folk singers DID invite everyone at the venue out to a local bar afterwards though. We did not take them up on this.
The show got started a little late, but was excellent--the crowd was quite enthusiastic as well!
We waited behind the stage afterwards, and amused ourselves by finding all sorts of fun things in the cloudy sky overhead. The security guards were also highly entertaining. People slowly filtered out after the meet and greet...and then the buses rolled out to the next stop. We headed home, and it was ANOTHER verrrrrry long drive home...and I had to work the next day.