Region X Swag
---
Design
Feel the need to show off your Regional Pride (and heck, who doesn't?) Well, we have ways to do it!!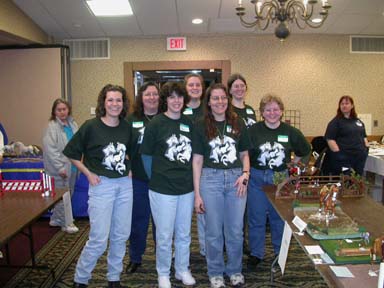 Check out the Region X Posse at the 2003 Greater Pittsburgh Live Show in 2003!
Money earned from these go to pay for the Region X Regional show in the fall.
THE REGION 10 BUMPER STICKER! For $1 you can plaster your fanaticism on your vehicle or your tack trunks, or on the cars of those from other regions if you so desire (we will not supply bail money) These feature our lovely logo and a bold "Region 10: We're the ones your parents warned you about!" on a black background. These were made available thanks to Laurie Lape. I will be carrying a supply of these (and trust, me theere are PLENTY) at various live shows.
THE REGION 10 WINDOW CLING! Thanks to Laurie Lape, we now have spiffy window clings of the Region X logo. These were misprinted so they are um backwards, but they still work. and they are FREE FREE FREE. Get yours at whatever live show I show up at.
THE REGION 10 TEE SHIRT! Tell the world how you feel in this forest green short sleeve T with the logo on the front, and the slogan on the back. NEWS FLASH! As of 5/31/03 tshirts are SOLD OUT! Watch this space for polo shirts and tank tops though! Missed out? I may reorder if there is enough interest--email me.
HELP! I DON'T SHOW AND I NEED THIS STUFF!! Never fear--shipping is available! For $5 you can get your shirt sent Priority Mail. Stickers and clings alone can be mailed for a measley buck.