Rochester NY, The Auditorium Theater
May 7, 2000
---
Word that tickets for this show were going on sale the following Saturday hit the alt.music.weird-al newsgoup before it was officially confirmed on the official site. Working on the assumption that if TicketMaster was selling tickets, then it must actually going to be happen, snails and Angela in Rochester quickly found themselves with a bunch of potential houseguests. The guest list included me, Sue K, and Shelley Meyer from Ohio. Snails got up early and snagged us FRONT ROW SEATS on the Steve/Ruben side of the stage!
So. I drove out to Rochester early Sunday morning, got to stop in Ithaca for breakfast (love that Ithaca Bakery!) and drove past Lynn's (snails) home three times before realizing I was at the right place...Shelley was already there, and Sue quickly joined us. Angela, Tera, her friend Tom, and Denise also turned up for an afternoon of discussion about Al, computers and Al again. Dinner was bar-b-que and it was yummy. Then it was time to actually see the Coveted Front Row Tickets: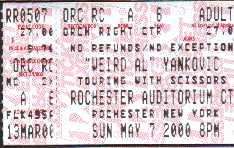 I also managed to borrow Dad's 200mm zoom lens for the occasion. We were a smidge too close for this lens at times, but I'm not complaining.
The show was excellent (as usual!) with Al and the band in fine form. Al spotted Sue, and our section was pretty much the most active part of the front row (save one happy lady right in the middle...why do people get fron row seats and just SIT there?) so he kept hanging out by us. Twice I swear he waited until I had focused and shot before moving on. Shelley got the coveted boxers during One More Minute! Woo hoo!
Afterwards, we went to hang out by the busses since no one had passes. After a little while, we were allowed to come in and say hi. I had Al sign my Running With Scissors CD insert and said "Great show!" He said "Thanks! Nice shirt!" (I was wearing a rather obnoxious Hawaiian shirt.)
Then we went back to Lynn's and discussed the show, watched Al videos (cause we hadn't seen enough of him already) and tried some Twinkie-weiner sandwiches. Don't try this at home, kids. They are good for about the first 15 seconds and then they get really really gross.
Anyway. Pictures!
PreShow
Gump
Dare to be Stupid
Pentiums
Like A Surgeon
Medley
Smells Like Nirvana
Bedrock Anthem
Saga/Yoda
Back | Trek to Burlington