Community Theater...Morristown NJ
---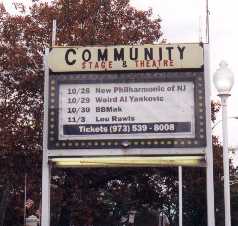 As the final dates for the tour were turning up on weirdal.com, it was looking like the Morristown show would be the finale for some time...and then another week's worth of dates were added. Before that though, there was a bit of a frenzy over tickets. Ticketmaster had a sale date set, but then some people were able to buy tickets directly from the venue BEFORE the Ticketmaster sale date. As it eventually turned out, the venue took orders ahead of time, but didn't process them until August 1st, so no one found out where they were sitting until then. Well, some people did. It was all very confusing. I picked up tickets for me and my sister in law Kathy, but when dates got added later, Kathy opted to go to Poughkeepsie instead. I did finally sell my pair for a sixth row single seat.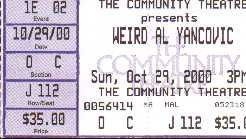 Oh yes. Weird Al YanCovic. That's a new spelling for me, too.
Then, seeing as how ticket sales were so brisk for a 7 pm show, a second earlier show was added. By that time, I was already planning out that final week of touring, and a lot of it involved carpooling with Dave, so I ended up buying tickets for both of us for that show.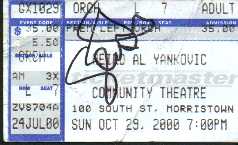 So anyway. Dave invited me down to help out at this haunted house type thing the night before the show, so we did that. I think we finally got home at about 2:30 am. After the time change. Yikes. Happily, Morristown isn't TOO far from Dave's cause we pretty much got up in time to get to Morristown in time for Dave to pick up bagels for the band and get to the early show.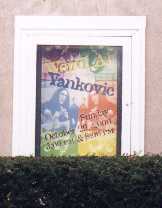 We met up with Amy and Tara-Lyn out front. They had been at the Verona and Delhi shows the past 2 nights and said the band was in good form. Then we went inside to find our seats. Angela spotted us and said hi, and Nan McCarthy found me in the bathroom (I'm ashamed to say I didn't recognize her right off...see, I'm much better at recognizing pets than people. Sorry Nan.) Three chicks in leather called Missing Romeo opened, and they threw fake roses out into the crowd before and during their set. Dave picked up a couple and gave me one, but he later lost his.
Shortly after, the show began, and as always it was GREAT. I didn't take too many pictures at either show as I was more interested in watching since it had been a while. For whatever reasons, Jerry Springer, My Baby's in Love With Eddie Vedder, and Bedrock Anthem were dropped from both shows. But it was REALLY nice to hear the guys again..and also nice to hear Al *without* a sore throat! Jim West was back with the band, which was also nice, since I hadn't seen him play since May (in Burlington VT.) Not that there's anything wrong with Danny Brant...but you cannot beat Jim during Dare to be Stupid.
Post show, a bunch of Internet people gathered for a few minutes including Adrian and Ann, Rich, Angela, Denise, Diva, the Yellin family, Weird_el, Amy nad Tara-Lyn and another vet named Maria. As it turned out, Maria's husband who was there is also a vet, and there was a woman named JoAnn who's yet another vet. I suggested getting together to discuss how we each treat bloats so we could write off the show as a business trip, but no one else was with me. Everyone invaded a local Subway for dinner.
Pre-Medley
Medley
Post-Medley
Dave's mom was joining him for the second show, so we split up for our seats. Dave was also taking Mom backstage after, so we made plans to meet up in front of the venue after the show. My seat was in about the same spot as it was for the first show, so I was pretty happy about that (especially considering the original ticket was for something like row T. Though in the great city of Morristown NJ they apparently do not use the same alphabet as the rest of the world.)
The second show was also great fun, and I happened to be near Rich and his radio show co-host (whose name I can't recall. Sorry Rich's friend.) Christina, Marilyn and Carol (from CT) also came up for the second show, so I got to say a quick hi to them.
It was obvious the band was goofing around a little at this show...Jim showed up in the Traditional Red Baseball Cap for Amish Paradise.
I found Adrian and Ann after the show, and since I had some time to kill, we decided to sneak out to the busses to see who might show up. The busses were roped off with that plastic "caution" tape (we thought it might be more appropriate if the tape said "Don't you people have something better to do?") Eventually Steve Jay came out wearing a band shirt that was covered in signatures. We were wondering why Steve might have his bandmate's signatures on a T-shirt until we realized that he was collecting fans' signatures! Well, aftter that we HAD to sign that shirt. Just as I was about to get the sharpie though, Al bounded out for the bus, so I figured Dave and his mom must be done at the meet and greet. I bade farewell to Adrian, Ann and Katelyn and her mom and trotted off to the front of the venue. Dave's mom got her picture taken with Al and she was pretty tickled about it. She seemed to have a good time at the show. I crashed at Dave's again, and then went home the next morning.
Pre-Medley
Medley
Post-Medley
Home | Poughkeepsie for Halloween!