Asbury Park NJ, The Paramount Theater
May 12, 2000
---
Set for the day after Hartford, and in what I consider a reasonable driving distance (especially if my work schedule says I work the next day...) I aimed myself at Asbury Park. I managed to contact Richard Green from the newsgroup and arranged to get tickets with him, cause a concert is always more fun when you know the people next to you are not going to be irritated when you sing the entire show. Richard got us a pair of tickets in Row F and tells me one's on the aisle! Woohoo!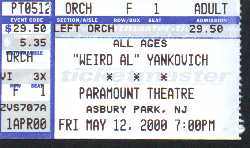 Note that we are actually supposed to see "Weird Al" YankoviCH. Oy veh.
So, I got my maps from Yahoo and left CT about 1pm so I had plenty of time to get lost. And I did get lost. In the vicinity of I-95. In the Bronx. I am just happy it was daylight. I stopped at a gas station for directions and the attendant (locked up behind a large, presumably bulletproof glass window) could not help me. Fortunately, chivalry is not entirely dead as a cheerful Jamaican fellow heard my plea and set me on my way. Thanks again guy, whoever and wherever you are.
Any previous knowledge I had of Asbury Park came from listening to Bruce Springsteen, so I was mildy surprised to see how run down the place was. Lots of neat buildings though...and maybe it is a different place after Memorial Day. I found the venue easily and started my search for a parking spot when I spotted Dave Rossi...so I pulled in next to him. He had Christina with him again, and another woman I didn't know. I got out of the car, said hi, and the woman I didn't know looked at me and said "I have something for you!"
I was like. "You do? Cool! Who are you?"
It turned out to be Amanda Deer (who I did know was coming, but I forgot.) We had chatted about horses on IRC a time or 2, and she made me a copy of the soundtrack to the Ultimate Horse Movie "The Black Stallion." I listened to it on the way home...thanks again Amanda!
We went and got some food, then wandered back to the venue. Met up with Adrian and Ann. I found my seat and Rich Green showed up a little while later. Rachel the Angry Folk Chick opened. The show was great, as usual, though I did notice Al's voice sounded a bit harsh during Gump. It seemed to get better as the show went on though. Richard got busted for his camera during "The Night Santa Went Crazy" and was forced to take it out to the car and had the film confiscated. They somehow missed the 35mm with the big lens that was in my lap.
After show, I caught up with Steve Jay and gave him a really good photo of him I had taken in Rochester. He seemed to like it, and mentioned he might scan it and send it along to the people who make his basses (apparently they are always bugging him for pictures.) Al also came out to say hi, but he was not allowed to speak.
I zipped up to Beacon NY (crashing at my brother's place that night. Took an alternate route to avoid 95 in the city) and managed to run into Adrian and Ann again at a rest stop on the Garden State Parkway.
Gump/Drum Solo/DTBS
Pentiums/Like A Surgeon
Medley
Nirvana/Bedrock/Amish Paradise
Saga/Yoda
Back | Main | Glenside PA for the 8pm show...