Oakdale Theater--Wallingford CT
7/10/03
---
First show of the tour for me!
I got out of work early enough to run ahead of the usual 684 traffic jam, and made it to the Oakdale Theater in Wallingford with plenty of time. Happily this venue was pretty close to home too.
The Oakdale theater is a pretty popular venue for concerts in CT. The theater itself looks a bit like a barn from the outside, but once you go in, you can wander around a little park area before heading into to sit down.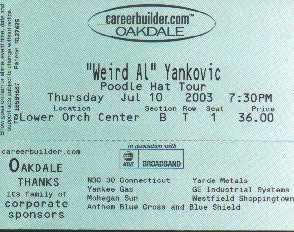 I was planning on just watching this show, but brought my camera along Just In Case. Security had me open my bag on the way in, and they spotted that big lens right off...
"Looks professional, there" RIGHT.
"Trust me, I"m not."
"Well....I'm really not supposed to let people in with big lenses on their cameras, what if you go sell photos on Ebay, Weird Al would get pretty upset and..."
He went on like this for some time but ended by allowing me to bring the camera in so long as I vowed to not take any pictures. Whatever. Trust me, at that point I was sorely tempted to use it anyway.
I found Dave, Allie, Adrian and Ann enjoying dinner, and I scoped out the merchandise stand, but it was too crowded to try buying stuff right away. Allie had apparently been hassled by security for trying to bring a framed drawing in (evidently they felt this was aWeapon of Mass Destruction. I swear not everyone in CT is this deluded.) We found our seats which turned out to not be as far back as we feared and waited for Fun Zone to start. The show started with a "switching channels" montage similar to the one on RWS, but instead of ending with "The Weird Al Show Theme" it ended with various celebrities introducing Al.
I had checked the set list just once prior to going, so I was a little surprised to see the show start off with "Angry White Boy Polka" when I was expecting "Couch Potato" I completely fell for the cell phone gag before "A Complicated Song" The set was a nice mix of older stuff ("Melanie" and "Dog Eat Dog") with stuff from Poodle Hat--and it was also nice to have so many originals up front!
"Melanie" was followed with Al pausing for a moment to talk to the audience:
"Some of you know, we have a song on the new album called 'Hardware Store' but we didn't rehearse that so we're going to do 'One More Minute' instead."
And yes, the scarf and boxers routine still goes!
OMM was follwed with "Wann B Ur Luvr" from Poodle Hat (Adrian pointed out about a month later that this particular run of songs--Melanie, OMM and WBUL pretty much made up a nice little psychodrama--obession, breakup, rebound. I dunno if that much thought really went into this or not) ANYWAY, WBUL featured Al in a white lesuire suit sliming around the stage and picking women out of the audience to sing a line or two to. I liked this song on the album but it is really hilarious live. I hope that this does not turn out to be Poodle Hat's "Germs" and gets incorporated into future tours.
I found Al's Nelly impersonation dead on, band aid and all...the Medley mixed up some songs from the last tour and some older stuff. Al had a sparkly new jacket for "Beverly Hillbillies" I hope that "Ebay" eventually gets the full song treatment. No new unreleased parodies, but "Free Delivery" was back. "My Bologna" and "Theme from Rocky XIII" were also new to the Medley this time.
The back half of the show was very similar to RWS--Smells Like Nirvana (my favorite!), Amish Paradise, Bedrock Anthem was dropped, and then, finally, Couch Potato. Again, Al has Eminem's mannerisms down. Fat wrapped up the show. The encore is Saga and Yoda again, with some fooling around by Ruben, though not as much as on RWS.
Overall, I had an excellent time--the crowd was responsive and happy (for the most part) and we headed out to stake out the busses. Dave introduced us to an obscure (really obscure) WAY bit featuring "Cuppy the Stick" and had cups and sticks all ready for all of us. Sadly, security chased us off pretty early on--it seems that the meet and greet was made up entirely of folks who won the right on a radio contest (where was I for this, I have to wonder--there was no mention of this show on any station I was listening too :P) and the radio station wanted to give their winners an exclusive prize. So we split up and headed our seperate ways, knowing we'd meet up again the next night in Poughkeepsie.